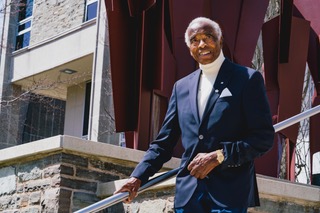 The Schulich School of Law and the Dalhousie Law Alumni Association honour this year's
recipient for his commitment to equity and justice.
Allison Lawlor
Honourable public service is at the core of Don Oliver's (LLB '64, LLD '03) family DNA. "I got
the need and the desire to give back from my parents and my grandparents," he says. "They
taught me that no matter how poor you were, you always gave back to the church or to
somebody else in need."
Following his family's example, the trail-blazing lawyer, businessman, and senator has devoted
his life to helping others less fortunate than himself by confronting racial injustice and breaking
down systemic barriers to make Canada a more tolerant place. Raised on a farm in Nova Scotia's
fertile Annapolis Valley, as part of the only Black family in the town of Wolfville, Oliver learned
that with a higher education he could better serve his community.
He graduated from Acadia University in 1960 with an honours degree in history, and then
attended law school at Dalhousie University where he received several awards including the Sir
James Dunn Scholarship in Law. At Dalhousie, Oliver – the grandson of families enslaved on
plantations in Virginia and Maryland – got to work using his new knowledge to advocate for the
province's Black community. "He has always adhered to the unselfish model of 'lifting as you climb,'" says Michelle
Williams, Schulich School of Law Associate Professor and Dalhousie African Nova Scotian
Strategy Lead.
The 2023 Weldon Award for Unselfish Public Service award honours Oliver's inspiring legacy.
Named for Richard Chapman Weldon, the law school's founding dean, this award recognizes law
school alumni who have made outstanding contributions to the community and the legal
profession. His commitment to altruistic public service is known as the Weldon Tradition.
Oliver used the Weldon Tradition as another guide post in his life. While at law school, he started
his life-long commitment to pro bono work. As chair of the Halifax Neighbourhood Centre
Project, he educated and empowered the Black community in the city's North End to speak up
for their rights, and even provided cooking classes to help foster pride in the home.
As a student, Oliver also helped to shape the law in Nova Scotia. One afternoon in 1962, while
taking a break from his legal studies, he went to a Halifax pool hall with a friend. He wasn't
there long before he was confronted by a man and told to leave. He was told there was a no
Blacks allowed policy.
Oliver left and later called the province's Department of Justice to complain that his human
rights had been violated on racial grounds. He was told that legislation was being drafted to
address the racism he experienced. A copy of the draft bill was sent to him, and he was asked to
review it and make comments. Applying the writing and editing skills he gained while working
one summer as a cub reporter at The Chronicle Herald newspaper and the knowledge he had
gathered in law school, he made several changes to the draft bill and sent it back. The bill
became the Fair Accommodation Practices Act and made it the law in the province that no one
could be kept out of a place "to which the public was customarily admitted" based on skin
colour.
"I hope that students don't go to law school just to make a lot of money. Making money, legal
fees, charging and billing should really be secondary to the Weldon Tradition," says Oliver. "Pro
bono work in the community and doing other things to help improve your communities is the
paramount thing that should be taught and what students should be doing."
Oliver's advice is to start giving back early. "It will soon become part of your life and something
you will always want to do."
After law school, Oliver built a successful civil litigation practice at Stewart McKelvey in
Halifax, taught law, ran a variety of businesses from real estate to farming Christmas trees and
became active in the Progressive Conservative Party; he served on the party executive both
provincially and nationally.
In 1990, at age 52, he received a life-changing phone call from Brian Mulroney. The prime
minister wanted to make him the first Black man to serve in the upper house. As a senator, he
committed himself to championing diversity and inclusiveness. "When I first walked onto
Parliament Hill in Ottawa, I saw little or no Black presence of significance," he wrote in his 2021
autobiography A Matter of Equality: The Life's Work of Senator Don Oliver.
His 2004 seminal work on systemic barriers to the advancement of minorities in Canada's public
and private sectors helped to change that. After raising $500,000 to privately fund a research
project he designed with the Conference Board of Canada, the project's final report helped to
build the business case for diversity in the workplace globally. "It was a study that influenced the
world," he says.
Throughout his career, Oliver offered his expertise to more than 30 charitable organizations and
boards and donated or helped to raise money for several Canadian universities to fund bursaries,
scholarships and prizes. Most recently, he established the Oliver-Craig Black Writers'
Retreat through the Writers' Federation of Nova Scotia and the Senator Don Oliver Young Black
Voices Book Prize for emerging Black Nova Scotian writers. "I've had an incredible life. I've
been blessed," he says. "I want to give back and make it possible for others to have similar
opportunities."
In 2013, at age 75, Oliver retired from the Senate. Having earned a reputation as one of the
hardest-working senators, he had served as deputy speaker, chaired six standing committees, and
received several honourary degrees and awards, including the Order of Canada. "To truly
comprehend the depth and breadth of Dr. Oliver's unselfish public service is an exercise in
humility. To have contributed a fraction of what he has, would be a life well served," says
Quenta Adams, Dalhousie's Assistant Vice-Provost for Student Engagement and Success.
Shortly after his retirement from the Senate, Oliver received a rare, debilitating heart disease
diagnosis. Given six months to live, he sought experimental treatment by participating in a
clinical trial for a new drug at the Mayo Clinic in Minnesota. He later developed peripheral
neuropathy in his feet, legs and hands making mobility possible only with the aid of a cane or a
walker. But neither his disease diagnosis nor his disability has prevented him from continuing to
give back to the community. He hasn't stopped, knowing there's still more work to do.
"To be recognized by the law school with this award is really enormous in my life," says Oliver.
"I wish my mother and father were alive to see me win such a special award."