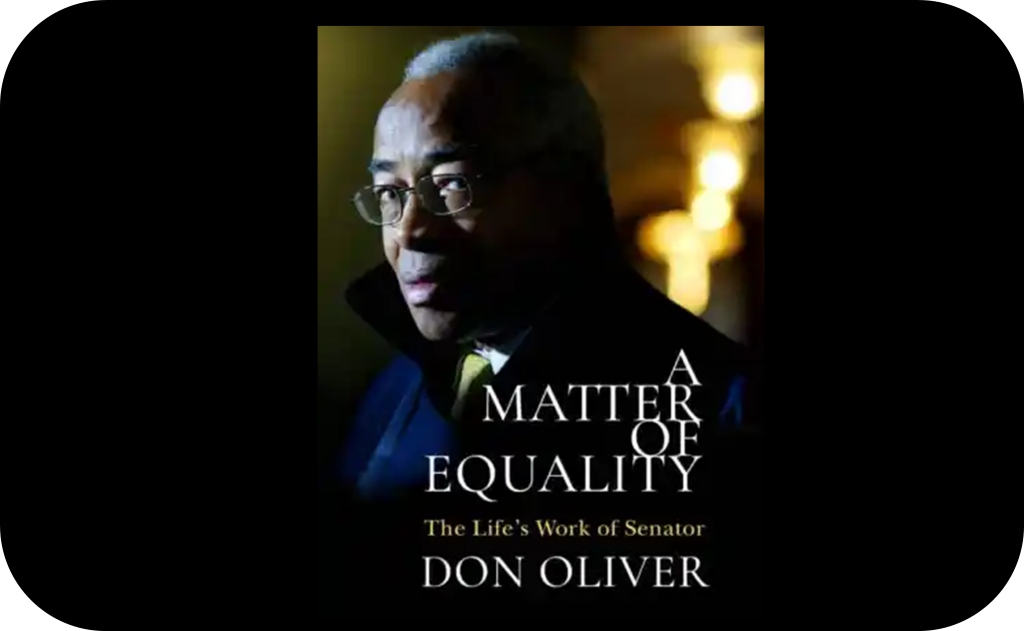 The Hon. Donald Oliver's autobiography, A Matter of Equality: The Life's Work of Senator Don Oliver, was released on Sept. 28 by Nimbus Press. This long-awaited book examines the legacy of the first man, and the second Canadian, to bring the Black experience directly to the Canadian Senate. Below are numerous links and letters about the launch of this book.
Feature in The Grapevine
Senator Oliver was recently featured in the February 2022 issue of The Grapevine, an arts and culture paper covering the Annapolis Valley, N.S. Read the interview.
Don Oliver's 'A Matter of Equality': The Epitome of 'Ubuntu'
Senator Oliver was recently featured in the Policy Magazine: Canadian Policy and Public Policy. Published in October 2021 by Senator Wanda Thomas Bernard, the first African Nova Scotian woman to be appointed to the Senate. Read the details.
Atlantic Voice interview
Senator Oliver was interviewed by CBC's Atlantic Voice, about his life's work and the release of A Matter of Equality. Read the interview and listen to the episode.
Virtual Book Launch and Fireside Chat
The Hon. Tony Loffreda, Senator from Québec, hosted a virtual Book Launch for A Matter of Equality. Watch the virtual launch.
Interview on 93.3 County FM
On November Senator Oliver joined Lynn Pickering on her show The County Writes…The County Reads on Prince Edward County radio. Listen to the interview.
CBC Mainstreet Interview
On December 2, Senator Oliver appeared on CBC Mainstreet NS with Jeff Douglas to talk about the book. Listen to the interview.
CTV Live at Five Interview
On December 19, Senator Oliver joined CTV anchor Bruce Frisco to discuss his work and new book. Watch the Interview.
Congratulations from former Prime Ministers
The Right Hon. Brian Mulroney, Canada's 18th Prime Minister and the Right Hon. Stephen Harper, Canada's 22nd Prime Minster, wrote letters of congratulations to Senator Oliver for A Matter of Equality.
Congratulations from the former Governor General
The Right Hon. David Johnston, former Governor General of Canada, also sent a congratulatory note:
Dear Senator,

I have just finished reading "A Matter of Equality". It is majestic. It is a clarion call to redouble our efforts to make Canada a true community of equality of opportunity for all – a smart and caring Canada.

Bravo on your life of service and inspiration.

David Johnston
A Matter of Equality 4th on the Hill Times Best Book
The Hill Times ranked Senator Oliver's book 4th in their list of the 100 Best Books of 2021.
Oliver in conversation with Nimbus non-fiction editor Angela Mombourquette
Senator Oliver and Mombourquette spoke about his life and work, and A Matter of Equality at a Nimbus Press launch event. View the event.