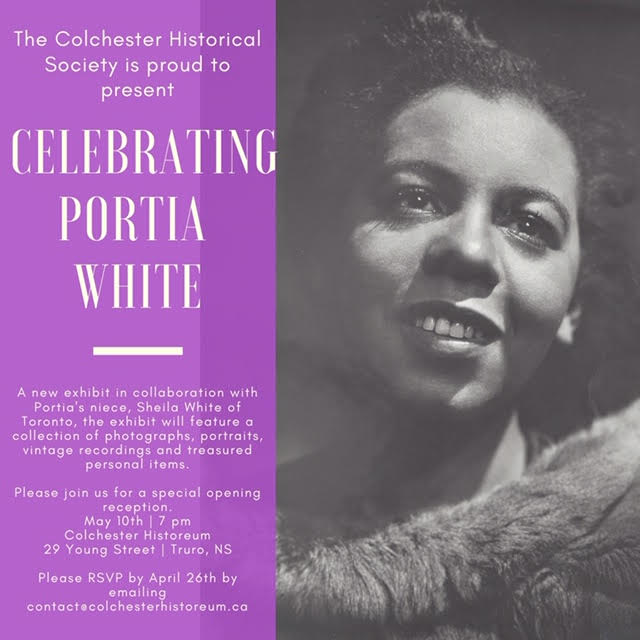 ---
A collection of photos and videos, including a recording of these remarks and songs in tribute to Portia White, can be found on Dropbox.
---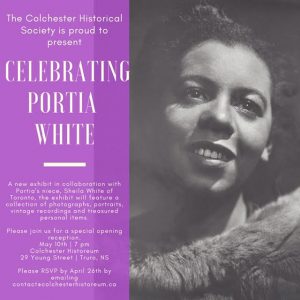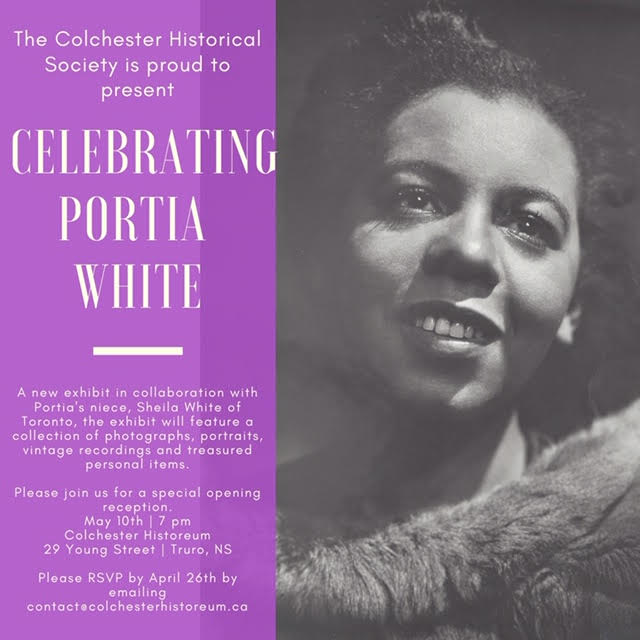 On a frigid, cold and blustery day in mid February, 1968, my mother (Helena Oliver—oldest sister to Portia White) and I, flew from Halífax to Toronto to attend the funeral service for Canada's most celebrated classical singer of the 20th Century. Portia White had died of cancer on February 13th, 1968. It was a beautiful ceremony that celebrated the life of this Nova Scotia Cultural icon.
That was more than 50 years ago but it seems like yesterday because all things Portia White tend to stay with you forever.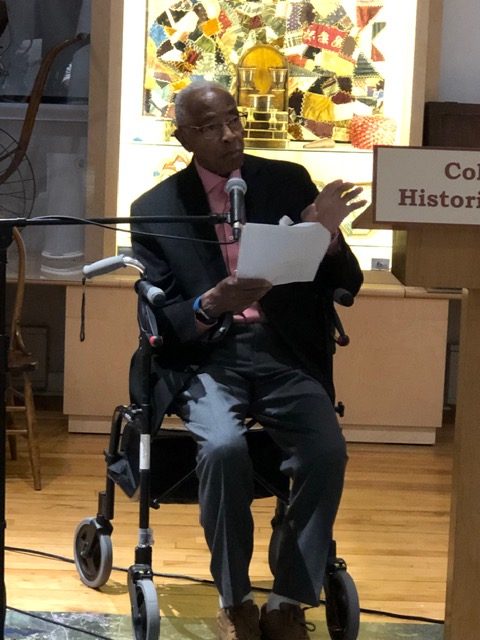 At the outset, I want to single out and publicly thank Portia's niece, my cousin, Sheila White of Toronto for her vision, foresight, energy and enthusiasm that was instrumental in getting this important collection of Portia artifacts, memorabilia etc. here to Truro, the place of her birth. Thank you Sheila, not only from all the family, but for Canadians who, thanks to your efforts, will have a greater opportunity to learn more of Portia's contributions to Canadian Culture.
I have not been well but I am honored tonight to have been invited to say a brief few words about Portia's influence in the music world from the viewpoint of a nephew.
The Internet is filled with accounts of her 1944 Town Hall Debut concert in New York which catapulted her from a little black girl from Truro, Nova Scotia who was blessed with a magnificent voice, to the International scene where she performed from concert halls in Europe to South America and the Caribbean. I will not refer to any of those. They comprise the background for the countless awards she accumulated throughout her all too short life. Not to mention how she became "a person of historic significance" to the Government of Canada.
Instead, I want to tell you a couple of personal things about my Aunt Portia. I had the deep honor to hear her sing up close and in person. Indeed, in my own home on University Avenue in Wolfville. Portia was in the Province and came to visit with my mother at our little 3 bedroom two storey home. My mother adored Portia and held her in high esteem on a huge pedestal. Indeed, her first born was a girl and she named her Shirley Portia Oliver.
A number of people in the University town wanted to meet Portia, or at least to see her, or to hear her sing, so my parents invited a few guests to our home for a musical treat. My mother, herself a recognized successful classical pianist, opened the evening with a short Chopin Etude, than accompanied Portia on a variety of pieces from an operatic repertoire and ended with a couple Negro Spirituals. What an incredible night. All we five children had been sent upstairs, ( and told to stay there), to make room for the invited guests. The evening went well. The guests were enthralled. I was upstairs peering through one of the bannisters as I looked and listened to this Heavenly experience. There were times when Portia was singing that I thought I could feel a tremor in the house because of the incredible power of her eloquent contralto voice. As an individual I found her warm, kind, sensitive to others and, frankly, not a person affected by her greatness.
She was a natural contralto but at the age of eight she sang as a Soprano in an Italian Opera, Lucia di Lammermoor. In 1930 she took voice lessons in Halífax as a Mezzo-soprano. And in 1939 while training with Ernesto Vinci at the Halífax Conservatory of Music she began to sing as a Contralto and that is the melodious, deep, rich, sonorous, voice that I heard in my home. It was really so big and so powerful.
I remember that Portia ended the little recital at our home with "Let us break bread together". It was inspirational and moving at the same time. But it was also spiritual and so powerful that, frankly, it brought tears of joy to my eyes, even as a little child. I was silently praying for an encore.
You will all know it as a famous African American Spiritual. It likely originated from West African Slaves who were on Plantations in South Carolina.
In closing let me refresh your memories with some of the words to that closing Spiritual, so close your eyes and try to imagine a globally acclaimed 40 year old Portia White with her deep, powerful contralto voice singing this:

Let us break bread together on our knees
Let us break bread together on our knees
When I fall on my knees with my eyes to the rising sun
O Lord, have mercy on me.
Thank you.