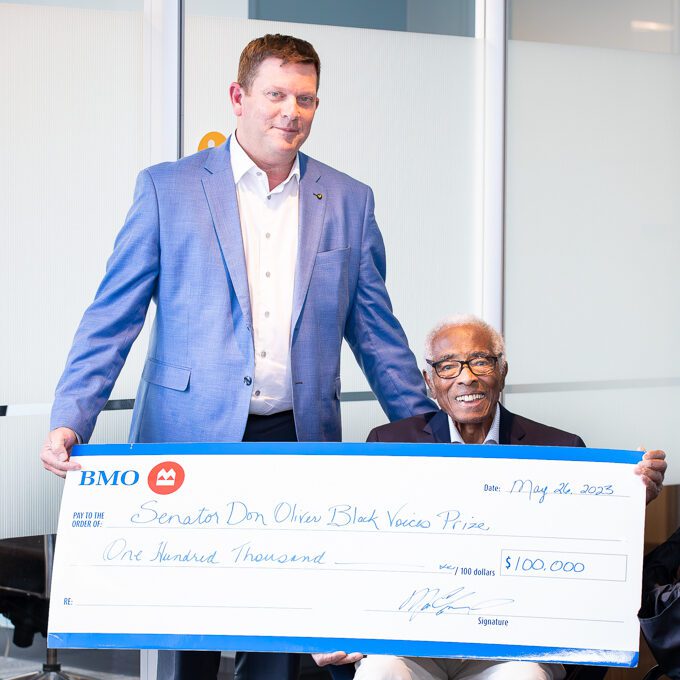 HALIFAX, May 26, 2023 – BMO is investing $100,000 in the Senator Don Oliver Black Voices Prize, to support a new $5,000 annual prize to be awarded to emerging Black Nova Scotian writers. The prize will be administered by the Writers' Federation of Nova Scotia.
The Senator Don Oliver Black Voices Prize will support and encourage the creation of literary work by Black writers from Atlantic Canada whose writing shows promise and career-advancing merit. The prize will amplify the voices of Black writers who are historically marginalized by systemic inequality, including within the publishing world.
"I wanted to create something that could be an incentive to those Black writers who have the potential and talent to rank among tomorrow's leading writers," says Senator Oliver, who has also contributed personally to the prize endowment. "It is my hope that the prize will encourage young Black writers to find their voices and share their stories with the world."
In creating the prize, Senator Oliver wanted the prize money to be substantial. The $5,000 prize money will finance the time, space, and professional development required to write, revise and edit, and/or submit work for publication.
"BMO is proud to join Senator Oliver, an author himself and an inspiration to so many of us in Atlantic Canada, in supporting a prize so-well aligned with our bank's Purpose, to Boldly Grow the Good in business and life", said Marc Champoux, Regional President, BMO Private Wealth, Atlantic. "This is all about expanding access to opportunity and progress for Black writers, while lifting up valuable and unique contributions to Atlantic Canada's rich literary culture."
Applications for the inaugural prize will be accepted through the Writers' Federation of Nova Scotia website and awarded by the end of the year.
Throughout his life, The Honorable Dr. Don Oliver, CM, ONS, KC, has been a tireless spokesman for diversity, pluralism, fairness, and equality, for which he was awarded five honorary doctorate degrees from Canadian universities. Now retired, he has been many things during his career including successful businessman, lawyer, professor of law, farmer, and Senator. The first Black man appointed to the Senate of Canada, he served with distinction from 1990 to 2013. He resides at his beloved farm in Pleasant River, Queens Co., NS, reading, writing and meeting with friends. His memoir, A Matter of Equality: The Life's Work of Senator Don Oliver, was published in 2021 by Nimbus Publishing.
BMO Financial Group is the eighth largest bank in North America by assets, with total assets of $1.15 trillion as of January 31, 2023. Serving customers for 200 years and counting, BMO is a diverse team of highly engaged employees providing a broad range of personal and commercial banking, wealth management, global markets and investment banking products and services to 12 million customers across Canada, the United States, and in select markets globally. Driven by a single purpose, to Boldly Grow the Good in business and life, BMO is committed to driving positive change in the world, and making progress for a thriving economy, sustainable future and more inclusive society.
The Writers' Federation of Nova Scotia is a nonprofit charity founded on the collaborative philosophy of "writers helping writers." The WFNS has an annual membership of 700 writers at all career stages, who are engaged in a diverse range of forms, genres, and writing practices.
Click here to apply for the $5000 Young Black Writers Book Prize
For more information, please contact:
Marilyn Smulders, Executive Director, Writers' Federation of Nova Scotia, 902-423-8116, director@writers.ns.ca
Hannah Webster, BMO Media Relations, 416-881-9532, hannah.webster@bmo.com