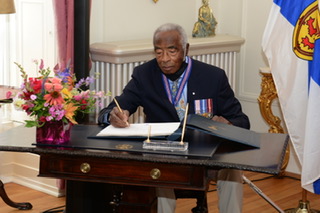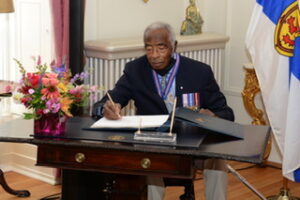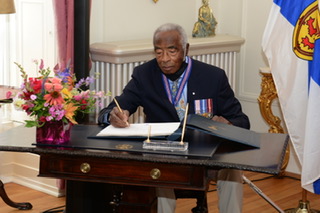 The Honourable Donald Oliver was awarded Nova Scotia's highest honour on Nov. 9 when he was invested into the Order of Nova Scotia.
Established in 2001, the Order of Nova Scotia encourages excellence by recognizing Nova Scotians for outstanding contributions or achievements. Members of the Order of Nova Scotia have distinguished themselves in many fields of endeavour and have brought honour and prestige to themselves and to Nova Scotia.
Lt.-Gov. Arthur J. LeBlanc, Chancellor of the Order of Nova Scotia, congratulated Oliver and the other recipients.
"On behalf of the Queen and all Nova Scotians, I offer my sincere congratulations to the newest appointees to the Order of Nova Scotia," said Lt.-Gov. LeBlanc. "These six exemplary Nova Scotians have made significant and meaningful contributions to this province. They are most deserving of this honour that recognizes their achievements and efforts to help others."
The Honourable Erin O'Toole, leader of the Conservative Party of Canada, also offered his congratulations to Oliver on Twitter.
Congrats to former Senator Donald Oliver on his Order of Nova Scotia. Donald has dedicated his life to the service of others, advancing the interests of minorities. He's committed to diversity, fairness and equality, and to making the province and country he loves a better place.

— Erin O'Toole (@erinotoole) November 9, 2020
Nova Scotia's profile of Oliver is below.
Honourable Dr. Donald Oliver

A black lawyer from Wolfville, Honorable Dr. Donald Oliver has devoted his life as a powerful advocate to minorities, to breaking down systemic racial barriers to advancement. Donald practiced law for 25 years in civil litigation and became a senior partner at Stewart McKelvie Stirling and Scales. He was chair of several committees of the Nova Scotia Barristers' Society.

He is a committed community volunteer, serving as chairman, president, director, or head of more than 25 charitable institutions, including Chair, Halifax Children's Aid Society; Atlantic Provinces Co-Chair, Canadian Council of Christians and Jews; Director, Halifax Hearing and Speech Clinic; Director, Nova Scotia Rehabilitation Centre; President, Neptune Theatre Foundation (appointed honorary life director); Director, Junior Achievement of Halifax; Director, Halifax-Dartmouth United appeal; and Director, Black United Front. He was the founding chairman of the Black Cultural Society.

In 1990, Donald became the first black man in Canadian history to be summoned to the Senate of Canada and, later, the first to be elected unanimously as Speaker Pro Tempore of that institution. While there, he served with distinction as chairman of six standing committees, including Fisheries, Rules, Transport, National Finance, and Legal and Constitutional.

Donald's principle contribution to the community for more than 50 years has been as a human rights activist and catalyst, and fearless trail blazer in breaking down barriers of racism and intolerance and promoting principles of pluralism, diversity, and inclusion in aspects of both the public and private sectors in Nova Scotia and around the globe.

For his community work in promoting human rights, he has received five honorary doctorate degrees (Guelph, York, Dalhousie, St. Mary's, and Acadia). Donald has also received plaques, honours, and medals from 12 Canadian organizations for his achievements, including the Harry Jerome Award for community service and the Distinguished Men of Honour Award from the Black Business and Professional Association of Toronto. He was awarded the Governor General's Commemorative 125th Anniversary Medal, the Queen Elizabeth II Diamond Jubilee and Golden Jubilee Medals, presentation of the Canada 150 Medal for unselfish service to Community and Country and, earlier this year, he became a member of the Order of Canada for his untiring efforts as a senator, educator, and civic minded community member who promotes inclusion and diversity in Canada.

Donald now serves on the board of the Black North Initiative, a national organization calling on large corporations and governments to sign a pledge to fight to end systemic black racism in Canada. At 82, he is also a businessman and tree farmer.
Photos from the Investiture Ceremony