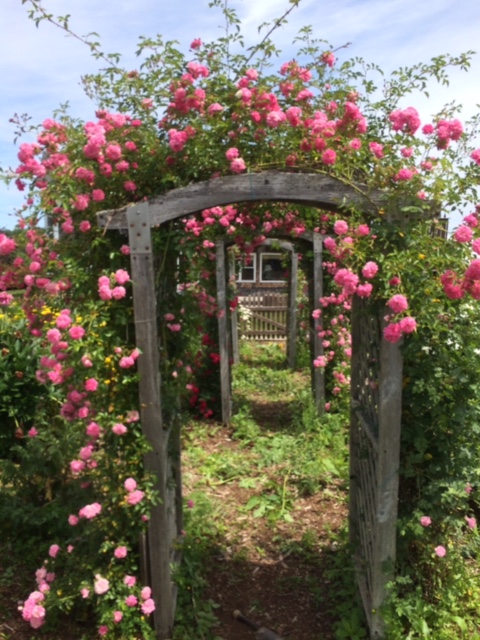 The snow is gone. The robins are back. Buds are forming on the trees. Daffodils and tulips have had their colorful run which, for me was a pure delight. It seems everyone, no matter their age, is outdoors in the fresh air on their properties now raking away the dead leaves of winter, freshening the flower gardens by pulling away the tired mulch, all awaiting a sunny moment to plant some seeds, bulbs, seedlings, nursery plants and flowers, herbs and shrubs. It's that time of year. Its obvious that no matter where I go, to the supermarket, drug store, community Y, the Church, a restaurant, everyone has an exciting Spring cadence in their voices as they discuss getting engaged again in the yard work including early clearing activities with gardens and shrubs.
Here at the farm, the tiny green leaves in the rhubarb patch started to nudge their way through the cold soil more than two weeks ago. And I've just had my first Spring homemade Rhubarb-strawberry pie with whipped cream. Yum! The pie looked good, had a wonderful aroma, and it tasted even better. It was simply delicious, so much so that I had a second helping. One of the things I associate with Spring is the kaleidoscope of vibrant pastel colors in the buds of the trees and plants around us, and the pie was no exception. When it came out of the oven, I could easily see through the lattice pastry that It had exciting soft red, pink and green colors and later, when we ate it, there was a hint of tartness, like spring freshness, to balance the sugar added to sweeten the rhubarb. The pie should, of course, not just be rhubarb, strawberries, flour, sugar and butter, but, as usual, in the seasoning of your pie, you should invoke your creative senses to direct you to the subtle addition of some other delightful condiments that will add joy to your dish. As you hunt down these different, unique kitchen helpers, don't forget the possibility of adding to your pie that splash of lemon juice, or even a small grating of orange rind, and/or a gentle hint of cinnamon and vanilla. If you're daring, you might also want to try a slight dusting of fresh ginger, but don't overdo it. Try one or some of them until you are personally satisfied with the taste and flavor and then I'm certain your guests will all beg for seconds.
Well, we've got such a great crop of rhubarb in the garden this year, I will shortly start making some rhubarb-strawberry jam which always warms me up when I have it on some nice sourdough toast in cold February and March. In addition to the jam, rhubarb muffins are always a delight. They are wonderful with afternoon tea, particularly if they have more of a cake than a biscuit texture. Here in the country, a number of neighbors still make rhubarb cakes. I have fond memories of growing up in Wolfville in the 40,s and 50's, when dessert in May and June could easily consist of some of my mother's homemade cookies with a dish of delicious stewed Rhubarb.
Rhubarb is very versatile. There is old fashioned rhubarb Pan Dowdy, which is fun, rhubarb punch, Brown Betty, sometimes called Rhubarb crisp, and many of my friends love rhubarb juice. It's certainly healthy for you. Its so versatile that you can really do a lot of different things with it and more and more people today are seeking it out so they can taste it and do some creative, experimental cooking with it.
But let me get back to the farm and country life today. Even though it has remained quite cold at the farm so far this Spring, there has been enough sun that some of our asparagus has dared to push its head through the ground and see the light. We've had two wonderful feeds and will have another tonight with some delicate pink bodied brook trout I caught yesterday. Yes, Spring is certainly here, and our asparagus makes the case that fresh food from the gardens is here.
The early, young asparagus does not need a lot of heat — cooking. It's so tender, the less the better. I have an asparagus steamer that prepares the spears from the bottom to the top, with the Tips of the asparagus spears receiving only the slightest hint of steam. They are best al dente, as the Italians would say:- firm to the bite, as nature meant it to be.
The main vegetable garden will be late this year. It has been unusually wet, cold, damp, with very little sun. And there have been several recent overnite frosts in low lying and other areas. I hope I'm wrong, but I suspect that those who planted things like peas, potatoes, beans etc over the last few weeks probably found the seeds rotted and will now have to be replanted.
But my planting chart with detailed measurements and plant and seed locations is all drawn up and ready to implement. The main reason for such a chart or plan is to try to avoid planting the same vegetable in the same place in the garden as last year. I just need sun to dry out the land and put some heat units in the soil to speed germination.
Some guests here at the farm recently discussed the reasons for my love of farming, gardening, and cooking the produce etc. It's all certainly part of my DNA. But it's also got a bit to do with where and when I was born and how I was brought up.
In the 1930's my father bought three lots of land north of Acadia University in wolfville and built a three room, two stores house on one of the lots. The other lots were used for farming and agricultural uses. My father loved to garden and to grow things. I know he had a wonderful inner peace when he was working in the gardens. He always had beautiful, colorful flower gardens. I guess it would be fair to say I grew up on a small, but really tiny farm with our own fresh berries and fruits with apple, pear and plum trees; animals like pigs, cow, chickens etc and a huge vegetable garden with the usual, lettuce, cucumbers, potatoes, corn, beets, carrots, peas, squash, beans , cabbage, etc. As you can imagine, from that bounty, my mother made all varieties of pickles, jams, relishes, conserves, preserves that we consumed and enjoyed throughout the winter months. We were close to being self-sufficient.
But the DNA origins go back further than my father buying and working the land in the early 1930's. Our home property was directly across the street from a 100 acre plus field owned and farmed by and for Acadia University.
In 1893 Acadia College, as it then was, created a Horticultural School in the College and it had classrooms, geeenhouses, research labs. The idea for its creation arose from a meeting that same year of the Nova Scotia Fruit Growers Association in Wolfville. The first class had sixty students, if you can imagine. But the reasons were obvious. Acadia was in the heart of the lush, prolific Annapolis Valley a major Canadian center for growing and exporting apples. The university wanted to develop into a center of excellence for that industry.
Dr. Atwood Cohoon, was a talented man with a keen interest in all things agricultural and he had training in Horticulture. He decided that not only should there be a school in the College but they should farm their land and supply fresh produce and milk to the College and, at the same time, provide employment opportunities to the students.
The project started out small, but was a financial success from day one. Dr. Cohoon always keep a close, careful eye all things relating to the farm so he appointed himself Superintendent of operations. But he did not have time to do the planning and all the labor. Throughout his years in Wolfville and at Acadia he had met, observed and become friendly with my grandfather, William Oliver, who had done a variety of labor-oriented jobs around the University. So here's a hint of what perhaps influenced my early DNA. The first person Dr. Cohoon appointed as head of livestock husbandry was my grandfather, " Billy Oliver". He worked the farm and other University positions until his death in 1934. They started the farm with 7 cattle and 15 pigs and supplied milk and produce to the University dining hall. As a sign of their continuing growth and financial success, one year they grew more than 40,000 pounds of potatoes for the students. That was all surely part of my paternal DNA!
But after the two World Wars things changed, and Acadia changed with them. The University no longer wanted to farm it's own land and so it leased out to others to work until 1956 when Acadia was in need of massive infrastructure upgrading and so the farm was ultimately closed down. A decision was made that there was not a strong business case for getting the vegetables from its own land, and that with the coming baby boom there were other uses for the land. Years ago I wrote and published a story about the farm and it's closure: "farm, former part of college domaine erased from Scene" published in the Acadia Bulletin in September, 1959 at pp 33-35. It was sad for me to see it go, but as they say, Times change and you must change with them.
The more I think back on these influences, the more I understand my attraction to the land, the soil, and to rural life in general.
Try making some rhubarb-Strawberry pie and get in the swing of things!