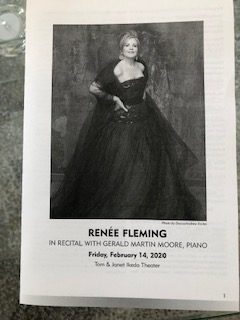 For Linda Oliver, February 14th, 2020 was not a year for a celebratory meal at a five star French restaurant with Champagne and roses.
Instead, we went to the 1600 seat Ikeda Theatre in the well known Mesa Arts Center just outside Phoenix for an unforgivable two hour recital with Renee Fleming and Gerald Martin Moore, Piano..
It was a rare two hours that spontaneously brought you to tears of sheer joy as we heard her exceptional talent, and it also made us jump to our feet for a richly deserved standing ovation, of which there were .several.
The stage was just Renee and a grand Piano. The théâtres exceptional acoustics made you feel like it was a small intimate gathering to hear arguably one of the finest soprano on the Globe.
She began with what I know as Handel's Largo( which I played as teenager in a music festival on my trumpet), or Ombré Mai Fu from his Opera Xerxes. She sang it slowly with passion and feeling, demonstrating to all her breathing control, her delicate tone, and frankly, the depth of her exceptional talent. I was smitten and entranced.
She personally introduced every section of the program The second section was Franz Liszt. His songs were new to her repertoire and she told us she would sing three short pieces to demonstrate how he represented the best in German Romantic poetry.
She changed the program as the evening went on by inserting many new pieces. As an example, just before intermission she added the final Aria from Othello to the absolute delight of her audience.
After Intermission and a few more short Arias, she turned to the audience and said « how many of you are singers? » and at least 40% of the house raised their hands and she got everyone singing along with her from My Fair Lady,(I could have danced all night), and other Broadway hits. It was wonderful.
She was brought back for 4 encores, and perhaps the most moving and best known was « Danny Boy »that she had also sung in the same venue during the celebration of the life of the late Senator John McCain.
There was a lot more.
It truly was an unforgettable evening for Linda's special Valentine's Celebration. By the way, February 14 is the birthday of Renee Fleming and she was deeply moved to received a bouquet of red Roses on stage.