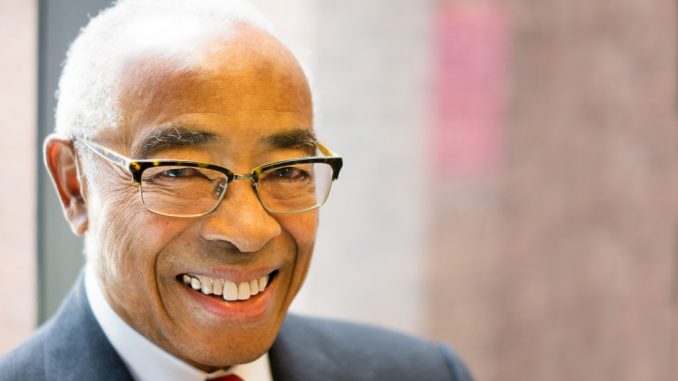 Sen. Oliver gave the introductory Zoom remarks for the speakers series "a Diversity Path to Prosperity for all Canadians", on April19, 2021. He was joined by three exceptional speakers:—Sharzad Rafati , the founder and CEO of BroadbandTV Corp, a digital media and technology company that drives monetization for current creators. Chief Terry Paul, Chief Membertou First Nation, who doubled their land base and increased employment by 80%. And thirdly Wes Hall, Founder of Kingsdale Advisors. They all spoke about the challenges they faced in rising to the pinnacle of the business world in Canada.
Thank you for providing this opportunity for me to make a few remarks.
The death of George Floyd was probably the greatest catalyst for change in ways to attack Anti Black systemic racism in Canada. His horrendous death at the hands of a white policeman in modern day USA was viewed in real time by millions around the Globe who, in a common internal protest said: ' enough is enough". Wes Hall, the founder of the Black North Initiative BNI was one of those.
That same racism, based on the premise that "white Privilege" must prevail, has prevented a large group of BIPOC Canadians from participating in our economic growth as equal partners, and Canada has been the big loser. We are a trading Nation and, in order to maintain our competitive edge, we must be creative and innovative. We must always be hungry for new ideas and keen to find new ways to penetrate International markets in places and countries where people look different from white Canadians and speak different languages. Canada's anti-Black systemic racism has prevented our reaching the trade plateau where our collective prosperity can be unlocked and unleashed and where we could easily be Best in Class.
It has now been proven by countless successful, forward-thinking Corporations, Institutes and organizations that acceptance of difference is at the heart of the Business Case for Diversity. Diverse companies are more likely today to easily outperform less diverse peers on profitability. Diverse workshops and companies have higher profits—greater revenue on the bottom line—2. Have less turn over. 3. A more positive corporate culture. 4 better financial performance.
That is in essence the business case for diversity that I have been speaking about for decades and that I worked very hard for in my 23 years as an activist member of the Senate of Canada, and it works.
I also want to commend Senator Colin Deacon and his team of willing Senators for having undertaken to challenge the Senate on Constitutional grounds to become more proactive in combating racism.
Thank you.